These are some of my experiments and ideas I have tried out. I also like to try out different media's and art materials and tools in general. One day sculpture is on my list. I did do some years ago when I was much younger and then haven't done any since then ! Hope you enjoy looking at my behind the scenes work.
See my Sketches and Drawings now on Pinterest
Realistic Abstract ?
This is my first try at making a Realistic Abstract. Well, it's a start anyway !
Portrait - Water Mixable Oils
I painted the study portrait shown here using Cobra water mixable oils. I had never used these before so I thought I'd try them out on a character study of this elderly Chinese woman. The small set of only 5 tubes of paint where a good starting point. The colours I used are White, Yellow, Magenta and Blue. It made quite a change to painting using acrylics !
Things I found while making this character study painting trying out Cobra water mixable oils.
The small box of tubes I bought had only 5 colours, White, Yellow, Red, Blue and Black. I don't often use Black so just used White, Yellow, Red and Blue. I could have done with some earth colours like Yellow Ochre, Burn't Umber and Burn't Sienne. It is possible to mix up lots of colours with just Yellow, red and blue but quite a bit harder to get the true colours I was after. The other things I found are forgetting that oil takes ages to dry and I kept leaning on it as I might with acrylic, getting it on my hands and fingers ! It does have a very slight smell of oil paint but not like I was used to when using traditional oils. The paint comes out of the tubes quite thick but can be thinned down with a little water that makes it flow more easily. It took some getting used to after using acrylics for years, mostly because of it's much slower drying time but it works really well once you get used to it. Blending and re-working, moving paint around is much easier when it doesn't dry as quickly as acrylics making good for portrait work. The brushes are a bit harder to clean in water than when using acrylics as the paint tends to not want to come out of the brush hairs so easily. I used 2 old brushes, just in case, as I didn't want to ruin my good brushes for acrylics. They do clean up well though with soup and warm water but take a bit more effort. My water pot I use for acrylics became a bit oily on the bottom but it does clean up OK with soap and water. I will probably use a different water pot for these paints in the future. They are very good professional artists paint heavily load with pigment. After a worrying start with these paints I soon got used to them and I will probably use them more in the future particularly for portrait work.
A Portrait Using Standard Acrylics
A portrait using standard acrylics which are known to be very difficult to blend and don't lend themselves readily to be used as you can with oils for blending work in portraits. Here's my attempt to use them as oil's in this portrait. I now use Atelier Interactive Acrylics when I need to blend as you can with oil's but need a fast drying time after the blending work is finished. You can either just leave the painting to dry at this point or use a hair dryer. Oil's typically take a few days to a couple of weeks to dry enough to carry on with the work. It is possible though to use an oil quick drying additive to speed drying up a bit but not as fast as 15 to 30 mins as it is with Atelier Interactive Acrylics.
Sword Liner Brush
This painting I made as an experiment using a Sword Liner brush. I had never used one before but thought they looked a useful thing to try out. I made the painting up as I went along. It's painted with Inktense on NOT 300gsm Watercolour paper, about A3 size. The Sword Liner brush is a Pro Arte medium size.
'Conté a Paris' Pastel Pencils.
I thought I would try these out on a piece of black mount board. The pastels are very bright, loaded with pigment so can show up really well against a black background. At the time I was also in my spooky, creepy scene mood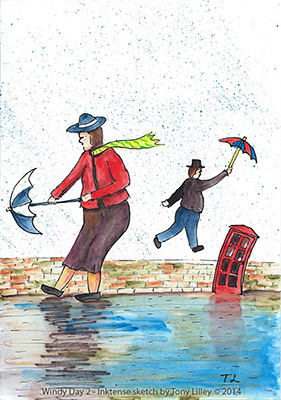 Inktense Test
Inktense pencil sketch-painting using Inktense pencils to mostly paint with taking ink colour from the end of the pencils using a wet brush and then painting this onto an outline drawing in Indian Ink. Painted on a sample of Marrutt Fine Art Matte paper normally used for Giclee printing. It really soaks up the paint ! a bit too much for my liking but it came out pretty OK.
Salt & Paint
My experiment to see if salt would work on acrylic ink or Inktense washes as it does on watercolour.
The answer is yes ! It will make nice little fairy dust like stars. This is because the salt crystals absorb the paint surrounding them leaving the white starry shapes.
Conté a Paris pencils
A young 1920s woman drawn as an experiment using Conté a Paris pencils and a small amount of Indian Ink then digitally combined on Tea Stained paper.
Mixed-Media Fresco
(below)
I made this one a few years ago when doing more photography work. It's a sort of Fresco made with Plaster of Paris on a thick plywood backing board. I took a photo of some vegetables on old fashioned scales in a darkened room lit with studio flash lighting. Then I printed the photo onto special LaserTran Decal Transfer paper. I then soaked the paper in a tray of water until the printed image was able to slide on the backing paper.
Then I carefully slid the image off the paper onto the plaster surface and used a large brush to softly bed down the image. Once the image was dry I painted around the image and support sides to blend the image into a dark acrylic painted background. I finished it off by painting over the image with acrylic clear medium. The photos show how the plaster is fixed solidly to the thick plywood backing using scored lines in the wood and lots of Clout roofing nails partly hammered in. The large diameter nail heads stop the plaster falling off the plywood. I made several backing boards but the vegetables picture is the only one I did.